Delhi Model Virtual School (DMVS) is one-of-its-kind online school comprising all the elements of a regular school through flexible digital interaction. Upholding the motto of "anywhere living, anytime learning, anytime testing", DMVS is Delhi government's flagship initiative on expanding the scope of Delhi's Education Revolution and making it available to students not just in Delhi but all over India

On the DMVS schooling platform, students and teachers connect through live classes, tutorials in smaller groups, and one-on-one mentoring for academic and personal support; all of this is available to them free of cost and at their own pace and flexibility.
दिल्ली मॉडल वर्चुअल स्कूल (डीएमवीएस) एक अनोखा ऑनलाइन स्कूल है जिसमें फ्लेक्सिबल डिजिटल इंटरैक्शन के माध्यम से एक नियमित स्कूल के सभी गुण व तत्व शामिल हैं। "Anywhere living, anytime learning, anytime testing" के मोटो पर आधारित, डीएमवीएस दिल्ली की शिक्षा क्रांति के दायरे का विस्तार करने और इसे न केवल दिल्ली में बल्कि पूरे भारत के छात्रों के लिए उपलब्ध कराने के लिए दिल्ली सरकार की प्रमुख पहल है।

डीएमवीएस के स्कूल प्लेटफार्म के जरिए छात्र और शिक्षक लाइव क्लासेस, छोटे समूहों में ट्यूटोरियलस और शैक्षणिक व व्यक्तिगत सहायता के लिए छात्रों की वन-ऑन-वन मेंटरिंग आदि के माध्यम से जुड़ते हैं; यह सब छात्रों के लिए नि:शुल्क है और उनकी सीखने की अपनी क्षमता, गति और फ्लेक्सिबिलिटी पर उपलब्ध है।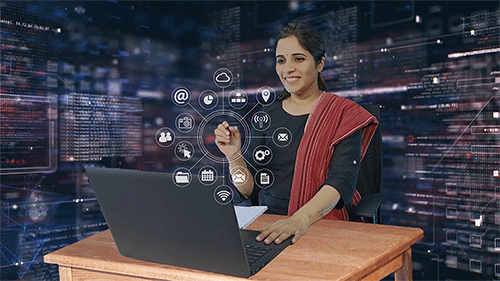 It is a full-time school that is in virtual mode. It is not an open school but a regular Delhi government school.

DMVS is a "School of Specialized Excellence", which the Delhi government has established to redefine education. It is affiliated with the Delhi Board of School Education (DBSE) and its certification is valid at par with CBSE or any other State board.

Admissions at DMVS for the Academic Year 2023-24 for Grade 9 will begin soon.

Important Note: Delhi Model Virtual School is a full time regular virtual school and not an open school or part-time school.
यह एक फुल-टाइम रेगुलर स्कूल है जो कि वर्चुअल मोड में है। यह कोई ओपन स्कूल नहीं है बल्कि दिल्ली सरकार का एक रेगुलर स्कूल है।

डीएमवीएस एक "स्कूल ऑफ स्पेशलाइज्ड एक्सीलेंस" है, जिसे दिल्ली सरकार ने शिक्षा को फिर से परिभाषित करने के लिए स्थापित किया है। यह दिल्ली बोर्ड ऑफ स्कूल एजुकेशन (डीबीएसई) से संबद्ध है और इसका सर्टिफिकेशन सीबीएसई या किसी अन्य राज्य बोर्ड के बराबर मान्य है।

डीएमवीएस में शैक्षणिक वर्ष 2023-24 के लिए ग्रेड 9 के लिए प्रवेश जल्द ही शुरू होंगे।

महत्वपूर्ण नोट: दिल्ली मॉडल वर्चुअल स्कूल एक फुल-टाइम रेगुलर वर्चुअल स्कूल है न कि एक ओपन स्कूल या पार्ट-टाइम स्कूल।
Delhi Model Virtual School Structure
Live Classes
Subject wise live classes during the school hours
Interactive Library
Availability of high quality recorded classes, audio-visual e-content and supplementary notes
Student-Centric Assessments
Formative and Summative assessments focusing not only on retaining knowledge but understanding key concepts and mastering skills
Assembly and Zero period
Assembly and Zero period every alternate day for classes of Deshbhakti, EMC, Happiness Curriculum
Special Assemblies and Events organized with special guest speakers for students to interact, engage and learn with.
Self-Paced Flexible Learning
DMVS offers a flexible model of teaching-learning to students of varied archetypes, allowing them to learn at anytime, at their own pace from any location and test their skills at their convenience
Diverse options of New Age Subjects and Skill-Based Courses
Specialized and Skill-Based Certification Courses developed by Delhi Board of School Education in Partnership with key organizations such as Tata Institute of Social Sciences (TISS), Indian Institute of Technology Delhi (IIT Delhi), Ashoka University and Lend a Hand India (LAHI) are provided to the students for their comprehensive and multi-faceted development.
A Day in the Life of a DMVS Student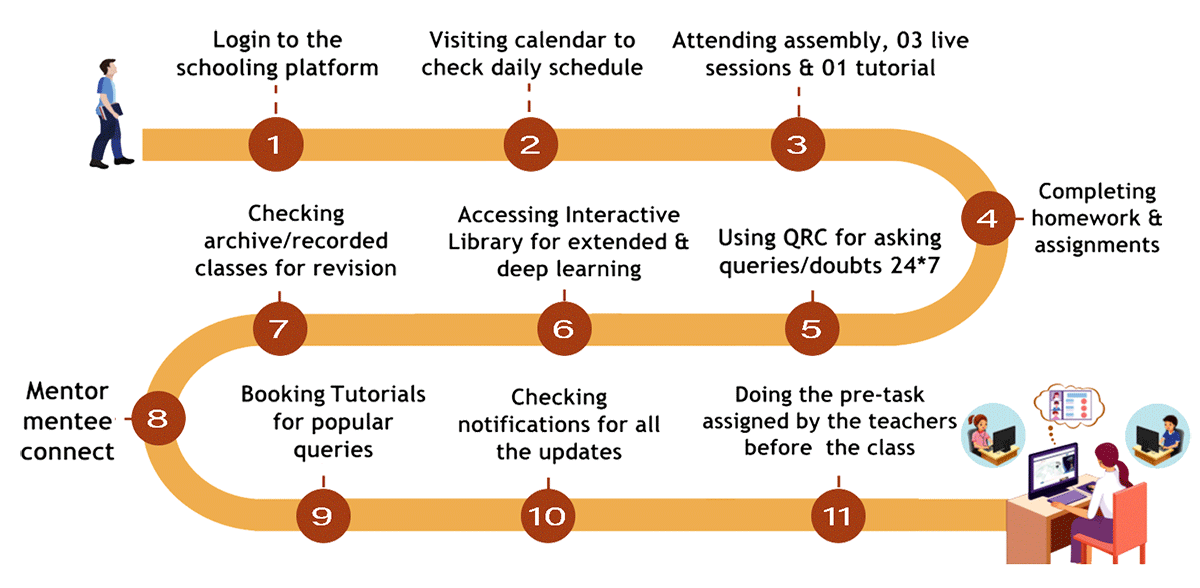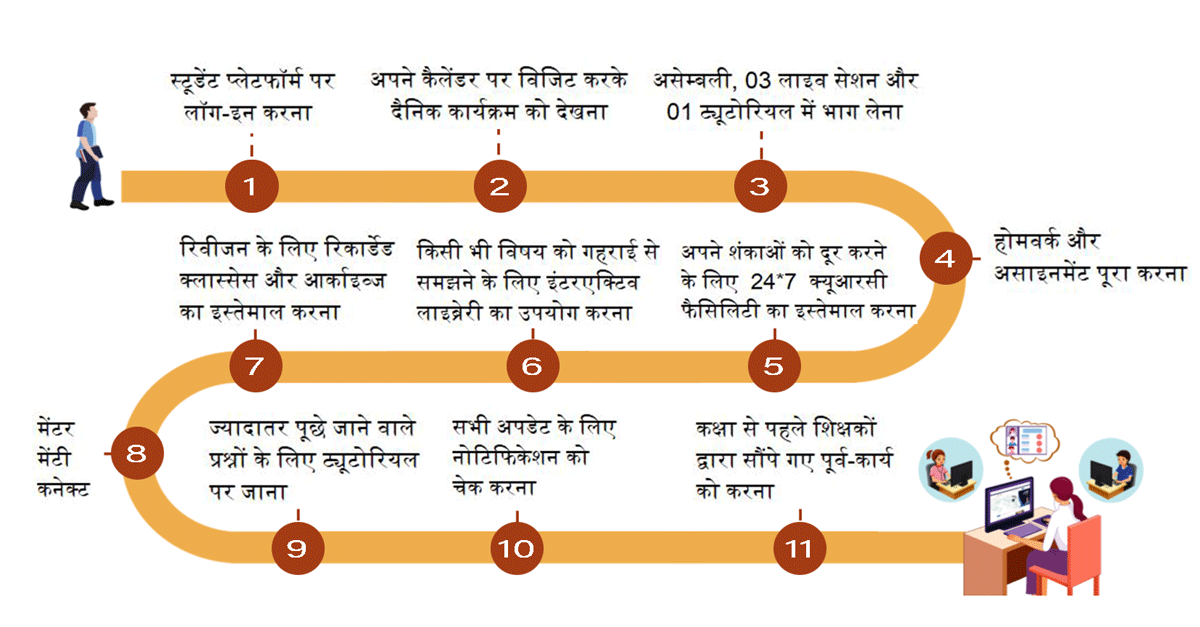 What is Offered?
At DMVS, students enrolling in Grade 9 for the Academic Year 2023-24 will be offered the following course structure -
Foundational Subjects -(Mandatory)
English

Hindi

Mathematics
Science

Social Science

Computer Science
Developed by DBSE
New Age Subjects and Skill Certifications (Optional)
Transmedia storytelling

Urban planning

Research

Legal studies
Coding

Digital Media and Design

Finance and Accounting
Developed by Knowledge Partners
JEE/ NEET Preparation (Optional)
Physics

Chemistry

Biology

or

Mathematics
Developed by Avanti
Language Certifications (Optional)
Important Note:
Some of the optional courses will not be available to students immediately and will be made available at a later stage.
DMVS is currently running in the morning shift only. Availability of evening shift classes will be dependent on the number of admissions and any other relevant factors as deemed fit by the DMVS administration.