Delhi Model Virtual School (DMVS) is one-of-its-kind full time regular virtual school. Upholding the motto of "anywhere living, anytime learning, anytime testing", DMVS is Delhi government's flagship initiative on expanding the scope of Delhi's Education Revolution.

On the DMVS schooling platform, students and teachers connect through live classes, tutorials in smaller groups, and one-on-one mentoring for academic and personal support; all of this is available to them free of cost and at their own pace and flexibility.
It will offer a range of career oriented skill courses as well as free-of-cost support for preparation for JEE, NEET and other competitive exams. दिल्ली मॉडल वर्चुअल स्कूल (डीएमवीएस) एक अनूठा फुल-टाईम रेगुलर वर्चुअल स्कूल है| "Anywhere living, anytime learning, anytime testing" पर आधारित, डीएमवीएस दिल्ली की शिक्षा क्रांति के दायरे का विस्तार करने के लिए दिल्ली सरकार की एक पहल है।

डीएमवीएस के स्कूल प्लेटफार्म के जरिए छात्र और शिक्षक लाइव क्लासेस, छोटे समूहों में ट्यूटोरियल्स और शैक्षणिक व व्यक्तिगत सहायता के लिए विद्यार्थियों की वन-ऑन-वन मेंटरिंग आदि के माध्यम से जुड़ते हैं। डीएमवीएस की सारी सुविधाएँ विद्यार्थियों के लिए नि:शुल्क है और उनके अनुसार डिज़ाइन की गयी है।
डीएमवीएस में कई प्रकार के करियर ओरिएंटेड स्किल कोर्सेज़ के साथ-साथ जेईई, एनईईटी तथा अन्य कम्पेटिटिव परीक्षाओं की तैयारी के लिए मुफ़्त सहायता दी जाएगी।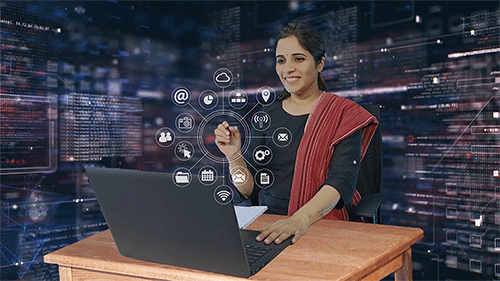 It is a full-time school that is in virtual mode. It is not an open school but a regular Delhi government school.

DMVS is a "School of Specialized Excellence", which the Delhi government has established to redefine education. It is affiliated with the Delhi Board of School Education (DBSE) and its certification is valid at par with CBSE or any other recognised board in India


यह एक फुल-टाइम रेगुलर स्कूल है जो कि वर्चुअल मोड में है। यह कोई ओपन स्कूल नहीं है बल्कि दिल्ली सरकार का एक रेगुलर स्कूल है।

डीएमवीएस एक "स्कूल ऑफ स्पेशलाइज्ड एक्सीलेंस" है, जिसे दिल्ली सरकार ने शिक्षा को फिर से परिभाषित करने के लिए स्थापित किया है। यह दिल्ली बोर्ड ऑफ स्कूल एजुकेशन (डीबीएसई) से संबद्ध है और इसका सर्टिफिकेशन सीबीएसई या किसी अन्य राज्य बोर्ड के बराबर मान्य है।


Important Note: Delhi Model Virtual School is a full time regular virtual school and not an open school or part-time school.
महत्वपूर्ण नोट: दिल्ली मॉडल वर्चुअल स्कूल एक फुल-टाइम रेगुलर वर्चुअल स्कूल है न कि एक ओपन स्कूल या पार्ट-टाइम स्कूल।
Delhi Model Virtual School Structure
Live Classes
At DMVS 3 hours of live classes are held for all foundational subjects where students get to learn and interact with each other simultaneously

Check out a Live Class here
Interactive Library
Availability of high quality recorded classes, audio-visual e-content and supplementary notes
Student Centric Assessments
Formative and Summative assessments focusing not only on retaining knowledge but understanding key concepts and mastering skills
Flexible Assessments in Grade 9th and 11th
Online proctored assessments for Grades 9th and 11th allowing flexibility to students
Flexible, small group tutorial classes
A 30 minute small group tutorial for any one subject is held everyday day aimed towards doubt resolution and personalized support
On-demand mentoring sessions
One on one mentoring for academic and personal support to students
Co-curricular Activities and Events
Co-curricular (Art & Craft, Music, Dance, Yoga & Sports) period
School assembly and Zero period for Deshbhakti and EMC classes
Assembly and Zero period every alternate day for classes of Deshbhakti, EMC, Happiness Curriculum
Special Assemblies and Events organized with special guest speakers for students to interact, engage and learn with.
Self-Paced Flexible Learning
DMVS offers a flexible model of teaching-learning to students of varied archetypes, allowing them to learn at anytime, at their own pace from any location and test their skills at their convenience
Diverse options of Career-Oriented Skill Courses
DMVS offers various career oriented skill courses to students such as Storytelling, Design, Finance, Coding etc. that can help them explore a wide range of career opportunities.
A Day in the Life of a DMVS Student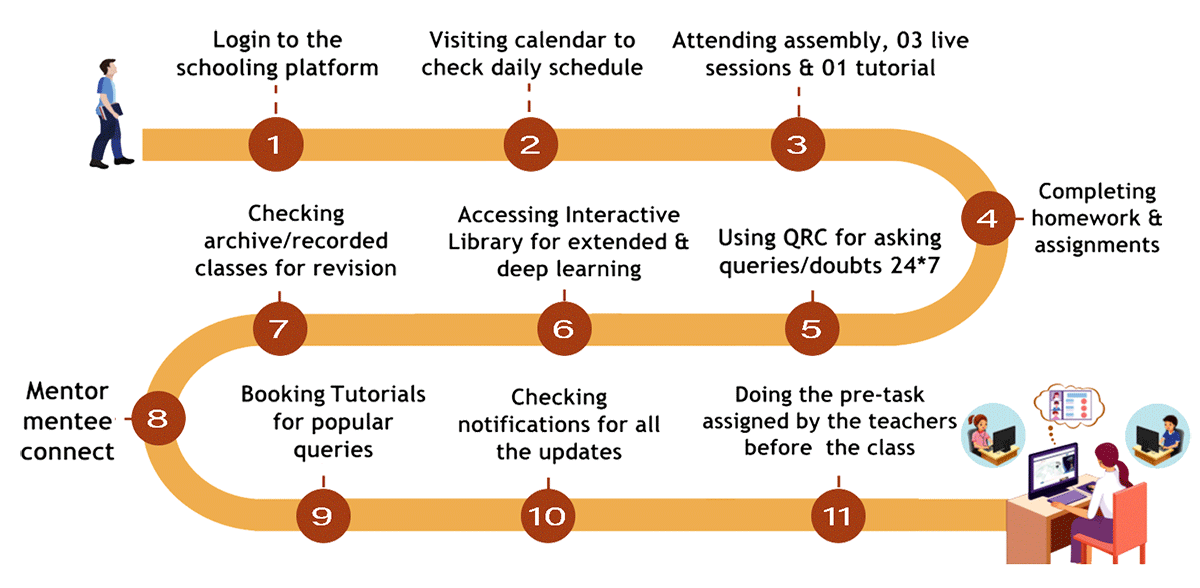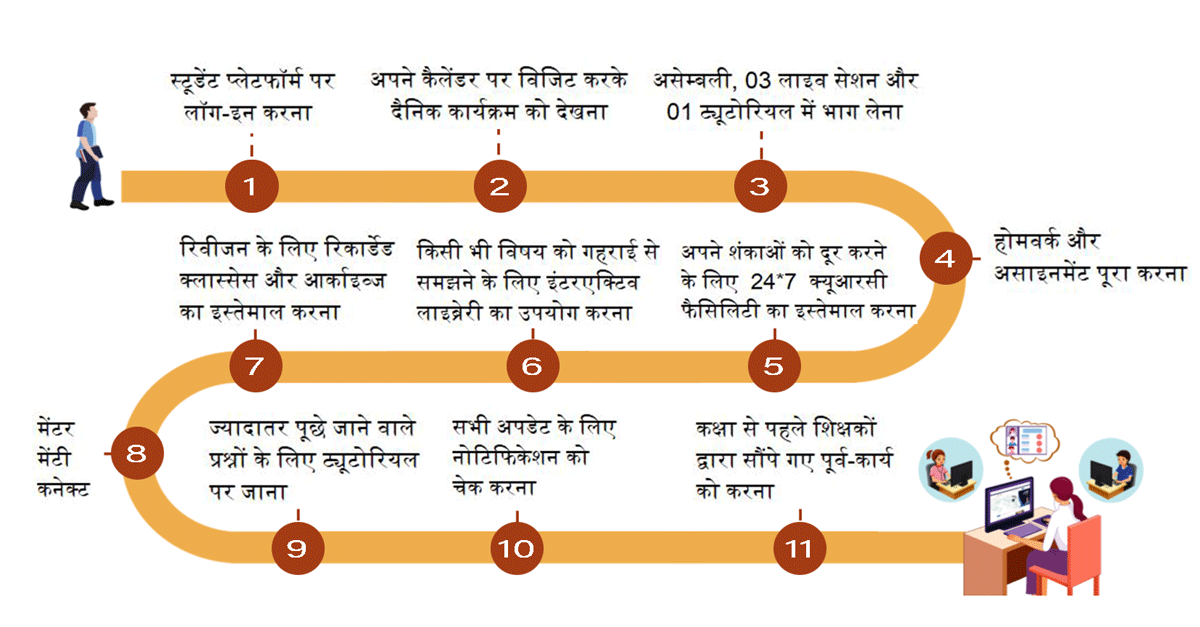 How is DMVS a unique virtual school?
डीएमवीएस एक अनूठा वर्चुअल स्कूल कैसे है?
How is DMVS a unique virtual school?
Free access to Delhi's education model.
DMVS provides high quality education to all its students at no cost.
Holistic Schooling Experience
At DMVS, students receive a holistic schooling experience as morning assembly, co-curricular activities, zero period, class tests, assignments and assessment feedback are conducted regularly.
Wide Range of Career Oriented Skill Courses
At DMVS students get a bouquet of course options starting with foundational courses like English, Hindi, Maths, etc. to preparation support for competitive exams like JEE/NEET, Foreign Language courses and career oriented skill courses like Coding, Social Work, Storytelling etc.
Continuous Learning, Engagement and Assessment
At DMVS live classes and tutorials are conducted every day from Monday to Saturday to ensure continuous engagement of children. Assessments are designed and delivered to engage, evaluate and support the child continuously throughout the year.
High Quality Curriculum & Teachers
At DMVS students are provided world class education taught by expert teachers of the Delhi Government based on extensively researched curriculum developed by the Delhi Board of School Education (DBSE) and International Baccalaureate (IB)
Personalised Support
Personalised mentoring and small batches for tutorials allow students to get focused support. Individual progress trackers help students understand their growth and achievements during the year.
Modern Vision & Modern Education
The Government of Delhi envisions education as means for the growth and development of children as per their dreams and aspirations. Through a wide range of career oriented skill courses like social work, coding, etc students are guided to discover and follow their own passion in life.
A Thriving Ecosystem for Students
DMVS provides a thriving ecosystem for students to regularly engage in teaching - learning activities with their peers, teachers and mentors. Special sessions such as Student Connect, Group Discussions, Yoga and Dance sessions etc., are organised on a regular basis.
Partnership with National and International Experts
All the new age courses delivered to DMVS students are developed in collaboration with renowned experts and universities such as Tata Institute of Social Sciences, IIT Delhi, Ashoka University, Avanti Learning, Lend a Hand India (LAHI), etc.
Assessments "for Learning" and not just "of learning"
Instead of marks-based end-term assessments "of" student's learning, DMVS focuses on "Competency-based" ongoing assessments "for" improving learning and discourages rote learning.