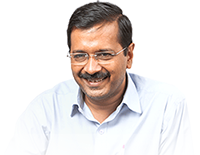 Delhi Model Virtual School is a unique and revolutionary step by the Delhi Government for students who are following their passion in any field and want to attain high-quality education. DMVS is Delhi Government's first virtual school with the aim to make quality education accessible to every child."

"दिल्ली मॉडल वर्चुअल स्कूल दिल्ली सरकार द्वारा उन छात्रों के लिए एक अनूठा और क्रांतिकारी कदम है जो किसी भी क्षेत्र में अपने पैशन को फॉलो कर रहे हैं और अच्छी शिक्षा प्राप्त करना चाहते हैं। DMVS दिल्ली सरकार का पहला वर्चुअल स्कूल है, जिसका लक्ष्य हर बच्चे को उच्चकोटि की शिक्षा उपलब्ध कराना है।"
Shri Arvind Kejriwal
Hon'ble Chief Minister,
Government of NCT of Delhi
How is DMVS a unique virtual school?
डीएमवीएस एक अनूठा वर्चुअल स्कूल कैसे है?
How is DMVS a unique virtual school?
Free access to Delhi's education model.
DMVS provides high quality education to all its students at no cost.
Holistic Schooling Experience
At DMVS, students receive a holistic schooling experience as morning assembly, co-curricular activities, zero period, class tests, assignments and assessment feedback are conducted regularly.
Wide Range of Career Oriented Skill Courses
At DMVS students get a bouquet of course options starting with foundational courses like English, Hindi, Maths, etc. to preparation support for competitive exams like JEE/NEET, Foreign Language courses and career oriented skill courses like Coding, Social Work, Storytelling etc.
Continuous Learning, Engagement and Assessment
At DMVS live classes and tutorials are conducted every day from Monday to Saturday to ensure continuous engagement of children. Assessments are designed and delivered to engage, evaluate and support the child continuously throughout the year.
High Quality Curriculum & Teachers
At DMVS students are provided world class education taught by expert teachers of the Delhi Government based on extensively researched curriculum developed by the Delhi Board of School Education (DBSE) and International Baccalaureate (IB)
Personalised Support
Personalised mentoring and small batches for tutorials allow students to get focused support. Individual progress trackers help students understand their growth and achievements during the year.
Modern Vision & Modern Education
The Government of Delhi envisions education as means for the growth and development of children as per their dreams and aspirations. Through a wide range of career oriented skill courses like social work, coding, etc students are guided to discover and follow their own passion in life.
A Thriving Ecosystem for Students
DMVS provides a thriving ecosystem for students to regularly engage in teaching - learning activities with their peers, teachers and mentors. Special sessions such as Student Connect, Group Discussions, Yoga and Dance sessions etc., are organised on a regular basis.
Partnership with National and International Experts
All the new age courses delivered to DMVS students are developed in collaboration with renowned experts and universities such as Tata Institute of Social Sciences, IIT Delhi, Ashoka University, Avanti Learning, Lend a Hand India (LAHI), etc.
Assessments "for Learning" and not just "of learning"
Instead of marks-based end-term assessments "of" student's learning, DMVS focuses on "Competency-based" ongoing assessments "for" improving learning and discourages rote learning.